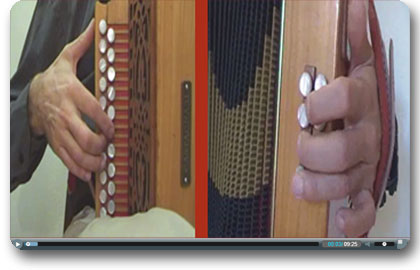 The Italian Accordion Academy (Accademia del Mantice) is an Italian association exclusively concerned with education on diatonic accordion and its repertory around the world.
Recently, the Academy has released the first diatonic accordion on-line course, organized through user-friendly online lessons held by Gianni Ventola Danese, one of the most representative Italian diatonic accordion players.
The Italian Accordion Academy (Accademia del Mantice) thought to those who, having no time or opportunity to find a peofessional diatonic accordion teacher in their city, they want to play the accordion acquiring step by step both a correct setting-out and a wide repertoire of international diatonic accordion tunes.
The diatonic accordion online course is divided into two main sections:
The Basic Course section. The section consists of fifteen lessons for beginners and for those who want to acquire a good basic technique. An educational path that in a time ranging from four to six months, brings the student a good knowledge of the instrument and a confidence level that lets start to build a personal repertoire of accordion tunes.

The Accordion Tunes Repertory section. The section consists of a collection of lessons to learn in a correct way the most beautiful tunes for diatonic accordion. Italian, French, Scandinavian and many international accordion tunes are available. The online lessons catalogue is enriched time by time with new tunes.


---
What is an Online Lesson
Each online lesson is equivalent to two to three hours of face to face lesson, without considering the time the student has to devote to the study and practice of the given exercises. The online diatonic accordion course offers a comprehensive series of practice oriented and easy to learn lessons. Each lessons includes:
A cultural background of the tune or tradition analyzed through the lesson;
Detailed step by step video instructions about studying and interpretation of the tune;
English subtitles for the spoken parts;
Videos for step by step tune learning and clear representation of hand position on the keyboard, both for left and right hand. The whole duration of the videos is about one hour;
Audio extracts, in order to emphasize determinates musical passages, both in slow and normal speed;
Tablatures or musical notation of the tune, for those who are able or need to read music;
Exercises;
Suggestions for playing and studying.
Further features:
Access h24 without time limitations;
Tutoring assistance for any technical problem by phone or chat;
No downloading needed, you need just a web browser (Chrome, Firefox, etc).
The Online Course is compatible with all computers, both Windows and iOS, and with all mobile devices, smartphones and tablets, both Android and Apple.

If you don't have an accordion G/C tuned, all the videos of the Online Course can be instantaneously transposed to the key of your diatonic accordion trough a specific function illustrated in detail in this Guide.
---
Online Students Map
This map shows the locations of the current diatonic accordion online course students.
---
Student feedback
---
What specialized press write about us
La didattica dell'organetto ora è multimediale e online, "Strumenti & Musica", in Italian language.
Le Cours Online de l'Accademia del Mantice, "Le Canard Folk", in French language.
---
Screenshots
---
Video 1. Numbers of the Online Course
---
Video 2. Online Course Video Presentation
---
The aim of the Academy is to increase the number of good player around the world and, above all, communicate the passion for the diatonic accordion and its international repertory.
For further information about the Accademia del Mantice courses please visit the FAQ page or contact us.